Money Problem-o
Jun 29, 2022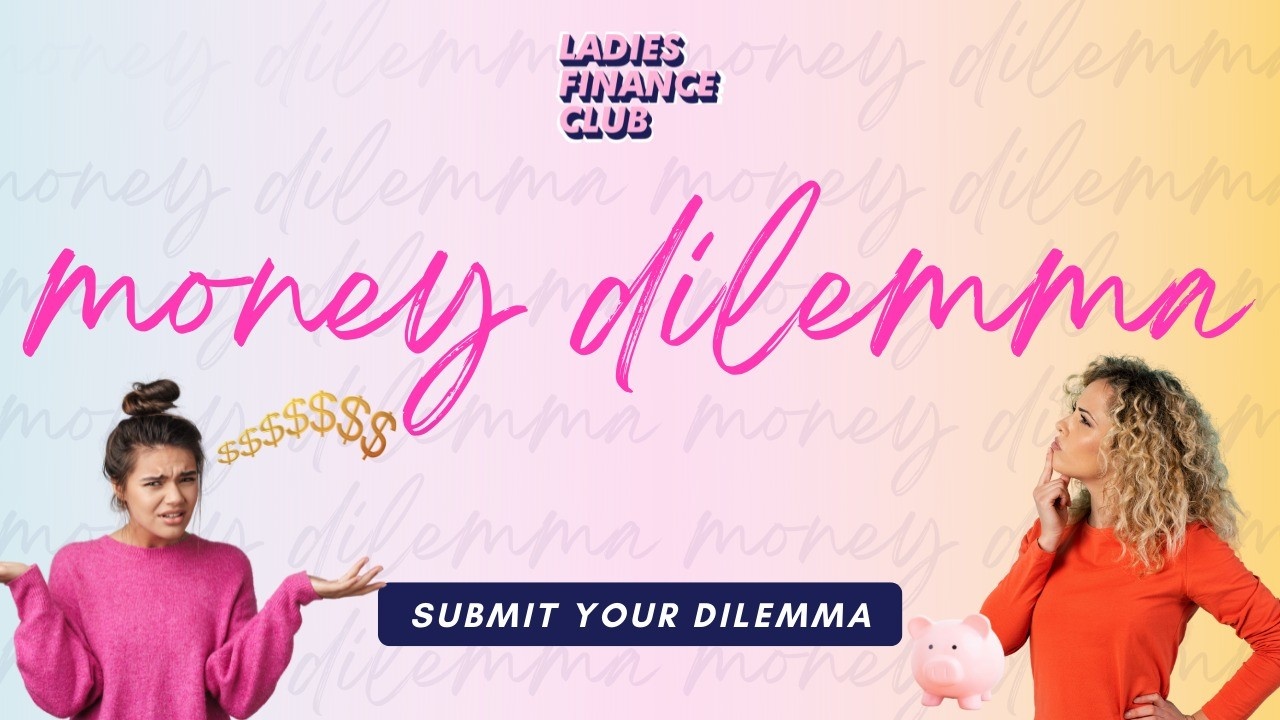 You asked, we answered!


Read the weekly money problem-o below (and be sure to submit yours here).
Money Problem-o:
"From a health insurance perspective, how can you navigate the line between paying for unncessary extras and ensuring you're covered?"
Answered by: LFC Ambassador in September 2022
Review, review, review! Regular reviews are a must! At Ladies Finance Club we recommend you review your health insurance at least once a year to make sure it still meets your needs. So pop a reminder in your calendar to review it about a month out from when the renewal is due.
It's hard to know what's going to happen next week let alone in 12 months but if you're young and healthy, perhaps you don't need cover for joint replacement. Or maybe you are done with having kids so don't need pregnancy cover anymore? Or you don't have these things and think it's time you consider adding them. It's important to review the optional extras to make sure you getting bang for your buck and make sure you understand what you are covered for, what the waiting periods are, and what you are losing (or gaining!) by making changes.
Always look at a few different options and get a few quotes to make sure you're getting a bang for your buck!
Money Problem-o:
"For my health insurance, does it make a difference if I get it as a single person or a couple?"
Answered by: LFC Ambassador in August 2022
In Australia, there isn't a real difference in price or benefits that a single person gets on their policy versus a couple. You generally pay the same amount in a couple as you would as two singles and unlike combining your phone data plans, you can't use the other persons unused entitlements unfortunately. As a couple with a joint policy, you may find one person is paying for a level of cover higher than they actually require just to match the other persons needs. If that's you - look for a policy that allows you to mix & match your level of cover or consider two single policies.
---
Money Problem-o:
"As a single lady, what insurances should I consider?"
Answered by: LFC Ambassador in August 2022
Regardless of if you are a single or a couple, it's so important to make sure you've got the right cover for your lifestyle. We know, we know…. that's easier said than done when there is house insurance, car insurance, life insurance, health insurance, pet insurance- the list goes on.
I often find that single people don't see as much value in personal insurance (particularly life insurance but also disability and income protection etc) and think this will be more important when they are relationship or start a family. One of the common issues with waiting to get this cover until later in life, is that as we get older more things typically go wrong medically and can mean by the time you get personal insurance, you may have exclusions for 'pre-existing medical conditions'.
---
Money Problem-o:
"I never know what to cook HELP ME please! Yes, it's the part of adulting that really does suck that dread question 'what am I going to have for dinner?' "
Answered by: Veronica, LFC follower in Adelaide in Aug 2022
Mondays (I work late) - pre-buy a pie or lasagna with vegetables (something easy my partner can just put in the oven ready for us when we get home).
Tuesdays (I work late) - I put a slow cooker on for everyone and have it with pasta.
Wednesdays (grocery shopping day) - teriyaki salmon with rice, green beans and recently I've also been adding avocado because it's so cheap
Thursdays - fish curry with rice and veggies mixed in, made with any cheap white fish because it doesn't matter since it's a curry. I pre-purchase the curry mixes/sauces when they are half price. This is my partners fav meal.
Friday - takeaway night! Anything goes.
Saturday - pre-bought chicken schnitzels with veggies/salad and roast potatoes
Sundays - steaks with mashed potatoes, veggies and any other side dish ingredients I have in my cupboard/leftover.
Another bonus is that there is ZERO waste with any of my fresh ingredients.
---
Money Problem-o:
"What is the difference between CommSec Pocket and CommSec?"
Answered by: Molly Benjamin, Founder of Ladies Finance Club in August 2022
Great question!
CommSec Pocket is an investing app for beginners, and they sometimes call these microinvesting apps. You can start investing with as little as $50 but have to be a commbank customer. You can invest in 7 different ETFs (Exchange Traded Fund) which have difference themes (example Global 100: Covers around 100 major global companies).
CommSec is an online trading platform that gives you access to many of the big Aussie and international sharemarkets like the Australian Securities Exchange (ASX), the New York Stock Exchange (NYSE) and the NASDAQ. You can also invest in ETFs and shares in companies like Telsa, Woolworths, Amazon etc.
---
Money Problem-o:
"How do I start investing?"
Answered by: Molly Benjamin, Founder of Ladies Finance Club in August 2022
If you can shop online, you can buy investments online. Yes, it's really that easy!

STEP 1. Work out your time frame and what you're investing for.

STEP 2. Have a good understanding of the basics!

You can learn them step-by-step through our new Investing in the Share Market for Beginners course. All members have a discount code! Reach out to the LFC team if you haven't received yours.

STEP 3. Open a broker account.

STEP 4. Know what you are investing in and the fees involved. We want to keep these low!
---
Money Problem-o:
"Not enough money for savings after paying all my bills."
Answered by: Molly Benjamin, Founder of Ladies Finance Club in July 2022
Sometimes it can feel like life is just paying bills, bills, bills. Here are a couple options as to how you can kill bills and shift the saved money into savings!
Negotiate on bills - you should be doing this once a year minimum. If you don't, 'you could be losing hundreds of dollars a year' says Joel Gibson who wrote Kill Bills and who spoke at an LFC session. Joel says, "you need to be disloyal to the providers of your household bills", now this actually goes against human nature (I mean, how many of us are with the same bank or providers our parents were with), companies know this as well! He says when you're a new customer you get the best deals because you're in the 'honeymoon' period, and then the longer you hang around, the more they increase their prices as they don't think you will leave. But these days it's surprisingly easy to switch providers and doesn't require much paperwork to do this.
Reduce your utility bills - when it comes to home and car insurance Joel Gibson says to mystery shop them! He says sign up as if you're a new customer (use a different email address) to see what the best price is. They would be charging a new customer and if you find you're losing out, give them a ring. Chances are if you call them out and ask 'can you justify this' they should give you the new customer price or meet you halfway.
Check out Energy Made Easy, it's a government comparison site that lets you compare energy prices and you can simply enter in your bill or upload it. Me likey!
Get your bill life admin sorted - set up a folder on your computer or a folder in your email (since most bills are sent via email) and store all your bills in one place.
Joel also says shop at two grocery stores and make Aldi one of them as they are the cheapest, but also pick another one. Most of the big brands put out their specials on a Wednesday (or check out the app Shopfully for your local bargains).
---
Money Problem-o from Em:
"Budgeting and sticking to it as my income fluctuates week to week as I'm a casual worker."
Answered by: Molly Benjamin, Founder of Ladies Finance Club in July 2022
Okay Em, I hear you - it's so hard to work out a spending plan when you can't be sure how much you have hitting your bank account each month! Many casuals, freelancers and business owners are in the same boat.
First of all, you need to make sure you're putting money aside for tax and super if it doesn't get paid. Then when I've spoken to money counsellors in the past about this same question, I've had three different answers come through.
1. Get the average: most say to look back at the last 6 months worth of pay checks, add them together and then divide by 6 to find out your average income per month and use that figure.
2. Create percentages: others offer working off percentages - for example: spend 30%, save 20% and live off 50%.
3. Start an allowance: otherwise, a final option is to draw down a regular allowance from your irregular earnings, leaving the extra (from the good months) as savings to cover the lean months.
The key thing to remember is that personal finance is just that... personal! So what works for you might not work for the next person, and that's okay. Try them all and make the choice for yourself.
---
Money Problem-o from Claire:
"

What is the best way to pay off credit card debt as quickly as possible?

"
Answered by: Molly Benjamin, Founder of Ladies Finance Club

in July 2022
For those with a credit card, you need to get drastic and ditch the plastic. You need to stop spending, and this can be the hardest part, especially if you're trapped in a debt cycle. We need to get rid of the card (the source of the pain) so it's time to do some plastic surgery, cut it up, melt it, cancel it, freeze it in a bowl of water.
Now, this is also a really good opportunity for you to call your creditors and ask them for a reduced interest rate, rather than using a balanced transfer or consolidating the loan into one. A balance transfer is when you move the amount you owe (the balance) to another credit card (usually with a 0% interest rate for a period of time). Although this might sound good in theory, Dave Ramsey says "Money is 80% behaviour and only 20% head knowledge". Generally what happens is it creates more paperwork, people don't change their behaviors and it doesn't fix the problem, and if they miss any repayments - it will negatively affect their credit score.
Financial Times Money Mentor, Lindsay Cook, told me a balance transfer was like moving the deck chairs around on the titanic - you're just delaying the inevitable. So research your competitors and use the competing credit card offers as leverage when you negotiate. Don't give them your preferred rate, but ask them what's the best rate they can offer you instead. If they still say no, ask the credit card provider to waive the annual fee even if they can't provide you with a lower interest rate, as the worst they can say is no.
STEP 1: Aim and fire. So start paying as much as possible off the smallest credit card debt first - you want to focus any spare cash you get and smash the smallest one until it's done! Once you have done that, you're now officially on a roll to becoming debt-free baby, celebrate with your money pals.
STEP 2: Keep going - After the first credit card debt is paid off, aim and fire again at the second. So roll the minimum monthly repayment from that first debt onto the second debt. And again, pay as much as possible off of that debt.
Why does this work? When you pay off your first debt, you have a sense of achievement, your brain gets that hit of dopamine and it builds momentum to keep going. When you pay a little bit off a big debt, it's hard to see the progress and you can lose motivation. Remember to celebrate the small wins (just nothing too grand I'm thinking like a cupcake + iced latte). Then use the momentum to keep going (almost like a snowball, hey)!
---
Money Problem-o from Vera, 27, Melbourne:
"I'm wanting to negotiate my salary at work, how do I get started?"
Answered by: Molly Benjamin, Founder of Ladies Finance Club

in July 2022
Here are 5 steps we have put together to help you become a badass salary negotiator!
Step 1 # Do your prep work
My mate who worked as a graphic designer for an agency in London did the classic, ``this is what you don't do" when he tried to get a pay rise. He found out that his colleague was earning $10k more than him, so in a huff, he knocked on the bosses door and demanded a pay rise or else he would quit. They said fine, leave and the next day he had to sheepishly ask for his job back. So never give an ultimatum unless you're really prepared so see it through (also don't burn bridges you might need that reference).
Get prepared, going for a pay rise isn't something you do on a whim, it's something you have to prep for at least 3-6 months in advance for.
Do your research to find out what the same role is going for in other similar companies. You can do this by literally googling it, using websites like Glassdoor, Seek, Payscale.com or call up and talk to recruiters. I did this a lot when living in London and applying for roles. I would call up recruiters and ask them what the salary range was, then always take the highest figure as market value. Also if you're asking friends who work in similar industries Meggie Palmer, Founder of Pep Talk App says ask for a range 'Between X and X' friends might feel more comfortable to share a range not their exact salary.
Action: Call up a recruiter and ask them for a range on a similar job and industry you're in, similar to what you're currently on?
Step 2# Create a case for why you deserve a pay rise
Once you have established yourself as a hardworking, smart, badass employee (rule of thumb at least after 6-12 months from beginning a new role). Start pulling together evidence of why you deserve a pay rise. Have you bought $100k worth of new work to the business, have you enhanced your companies newsletter by X%, did you get really good feedback from a client, nail a pitch or throw an amazeballs Xmas party etc. If you're prepping for a brand new role at a new company you can do the same, use statistics, real examples and tangle results.
Action: Set a calendar reminder at 4 pm on Friday and list out 3 of your biggest achievements for that week in an Excel doc, G-sheet or using the PepTalkHer app. This will be used for evidence later when you go and negotiate your salary and it's really really important you keep it up to date. Why? You know when an old friend you haven't seen for a while says 'what have you been up to' and you're like hmm I know, I've been really busy but I can't literally think of one thing to tell you. Well imagine what it's like for your boss when they have multiple staff they are managing, they won't remember that pitch you won or that project you just finished so to help send over a weekly or monthly wrap up to show them what you have done (and also why you're awesome)! Now I know women don't like to brag but it's not bragging it's letting them know what you've been busy squirreling away doing.
Action: Email your boss a summary of what you have achieved that week/ or month and then tell them where your focus will be for the following week/month.
Step 3# Choose the right time
Don't wait for your boss to notice all the work and long hours you've been doing and nominate you for a pay rise, it's not on the top of their agenda, they are busy, so it's likely you're going to have to bring this topic up.
Now you want to make sure you're asking at the appropriate time. Go through HR to find out when salaries are reviewed or read through your company's policy to see when this happens. If you have a performance review coming up or have finished a big project these can also be good opportunities. Use initiative, if your company is making redundancies probably not a good time or if they are experiencing major operational issues.
Book in a meeting with your manager so they can prepare, this is something you don't want to spring on them at the photocopier or after-work drinks. Meggie Palmer says "Put some time in your boss's calendar - send them an email and let them know you're looking forward to discussing your achievements and contribution to the team."
Psychology Today says Thursdays are the best days to ask for a pay rise.
Quick Exercise: Ask HR when salaries are reviewed and scheduled at a time with your boss or set up a diary reminder to set it up in X months time.
Step 4# Set your price
So by this stage, you have done your research and you know your market value. So get clear on how much more you want and what is your walk-away price. Once you have your desired price, make sure you add a bit of a cushion on top, and avoid giving a range between $60-$65k. I mean if you want to buy a car and they said you can have it for $10k-$15k you would be like'err i'll take it for $10k' thanks. Put your number out there first, this is known as anchoring and the psychology behind it is the first number offered is the number that will then be up for discussion. Therefore if you're wanting $60k and they say come out with 'we were thinking $50k' the number is anchored to $50k, you might reduce your amount and say I was thinking $55k. If you go in first with the number you want (plus a bit extra) $65k the number is anchored to that. If they were thinking $55k, they may up it to $60k.
IMPORTANT: When working out your 'want price' make sure you have worked out if it includes super or not! I have spoken to many a lady, who took a job but hadn't realized super was included in the amount. If you don't know, ask the question.
Action: Role play with a friend asking for a salary increase and get them to accept, reject, and question you on the pay increase. If it's a new role, role replay, top interview questions (download them from www.ladiesfinanceclub.com/money). Where possible use tangible examples from roles as well as facts and figures where possible. Ex. I increased click-through rates by 35% when I worked at XXX.
Step 5# What next?
Now you're doing this, it's time to shine! You've done your prep, you know what price you're after and you've got your evidence as to why you deserve that figure. Now some people like to write a mini agenda for the meeting so they don't miss anything important and on occasion, I have even been known to create a little presentation of what I have achieved (but that is a little extra)! When walking into your meeting, walk proud and tall, (do some power poses in the toilet beforehand to get your confidence pumping)! James Clear says" High power poses increased testosterone by 20% and decreased cortisol levels by 25%. So once you have done your superwoman poses in the bathroom it's your time to shine baby! You've got what it takes to get that money!
Now it's likely one of three things will happen -
1. They will accept your offer, yippee happy days!
2. They will say they have to check the budget or with their manager.
3. They will decline -
If they say No or they have no budget - are there any other benefits you can negotiate such as a job title, flexible working hours, additional annual leave etc. A 'no' might also mean a no right now, so this shouldn't put you off asking again in 6 months time. A great question you can ask as a follow up is ' What would I need to do to earn to be considered for that $_ pay rise). So you can then start putting a plan together.
If you're going for a role and they offer you an amount you're not happy with, don't feel pressured into saying yes straight away, you say thank you and you will consider it. If they offer you an amount you really don't agree with Tori Dunlap founder of HERFIRST100K recommends you can use this script that helped her negotiate $10k more on a previous role:
"Thank you so much for this offer, I would love to join the team, based on my skills, experience and the market salary rate, it would make sense for me to be in a higher range of $_____ to ______. If you could increase the offer by $10,000, I'd be eager to accept."
---
Money Problem-o from Laura, 31, Melbourne:
"How do I reinvest my dividends?"
Answered by: Molly Benjamin, Founder of Ladies Finance Club

in June 2022
A 'share registry' is a company that, on behalf of a company, manages the registry of shareholders for that company. The registry has the following responsibilities:
🤑 Recording changes in share ownership
🤑 Issuing shareholding statements and comms
🤑 Manages dividend payments, bonuses and rights issues.
1. When you purchase shares or ETFs you will need to visit the website of the share registry and create an account in order to instruct them on how to treat your dividends, etc. Brokers don't manage this. Some big ones in Australia include Link Market Services and Automic Group, BoardRoom Limited and @computershare.
2. If it's your first time logging in you'll need to register with your HIN number on the share registry - which will be on the letter you'll receive from them. Not sure who yours is you can use the ASX Share Registry Search tool.
3. Once logged in you can edit your details, your communication preferences (from post to email) and if you want your dividends to be reinvested into the company (meaning instead of getting that money into your bank account the money will be reinvested into more shares and ETFS in that same company/fund.) If the dividend payout was $100 and the shares or ETFS were $50 each would get two units/ or two shares reinvested instead of $100 in your bank account.
WTF Molly what's a dividend - like this video says when a company makes a profit they sometimes share a bit of that profit with their shareholders (aka you). But it's important to remember not all companies pay dividends.
Some companies (especially start-up phase, tech etc) are really focused on growing so they like to reinvest all the money back into themselves and not the shareholder - the idea being that you will make money from the company's growth not dividends.
---
Money Problem-o from Emma, 34, Sydney:
"I am thinking of using a buyer's agent but not sure what they charge - I don't want to be ripped off."
Answered by: Rhiannan Jenkins, Buyers Agent & Property Consultant at Hunter James in June 2022
What does a buyer's agent charge?
Buyer's agents typically charge either a fixed fee or a percentage of the purchase price. With fixed fee pricing, the fee is usually quoted upfront and generally will not change irrespective of the purchase price of the property, unless otherwise agreed.
A fixed fee may vary depending on the client's budget. For example, a buyer's agent may charge based on a sliding scale e.g., up to $650,000, $650,000-$1,000,000, $1,000,000+. Or the buyer's agent's fee may be based on the complexity of the search, such as how scarce the property is, the likely timeframe to purchase, or the amount of resources required to fulfil the search.
A fixed fee can also vary depending on the type of service. For example, a buyer may need a full search service which typically includes researching, searching, inspecting, reporting and negotiating/auction bidding. Or the buyer may have time and skills to research and inspect themselves and instead, only require a buyer's agent to evaluate and negotiate a property on their behalf. Different levels of services will attract different fees.
The second fee model is calculating the fee as a percentage of the purchase price of the property. Fees typically range between 1%-2.5% of the purchase price but can vary greatly depending on the location and the individual buyer's agency/agent. The percentage is usually quoted upfront but of course, the final fee is unknown until the buyer purchases the property.
On a final note, if the "buyer's agent" is not charging you a fee for the service, ask them how they are getting paid. If they are being paid by another party to the transaction e.g., a property developer, then their interest is it is to serve the developer and effectively sell to you. Always ask how they are being paid.
Do you have your own money problem-o? Share it with us! Send us your money problem-o here.