5 things to know before buying a used car 
Feb 06, 2022
5 things to know before buying a used car
---
There's nothing like a new set of wheels. More space, more pace or more gadgets and tech are all part of the lure of upgrading from your current car.
At the moment, Aussies want more cars than the market can supply, both new and used. The pressure to get a new set of wheels has seen new car queues form and prices increase.
But where do you begin, how do you know if you're getting a good deal and where is the best place to start shopping?
So strap yourself in for the 5 things to know before buying a second-hand car.


1. Where to buy a used car
There are many places you can buy a used car. Each has its pros and cons. Here are your options:
Marketplace/ Private Sellers
Private buyers selling to private buyers is often where you can pick up the best deals. But it can also have significant risks. Establishing the history and authenticity of the car you're looking at is crucial, and that's something that can require a third-party inspection.
Used Car Dealerships
There's no shortage of car dealers trading in used cars. Dealers usually make more money on a used car than they do a new one, so they're naturally keen to trade. Dealers usually charge more for the privilege, often because they'll detail the car and attend to any minor damage before putting it on their lot.
Car Yard Auctions
Auctions are one of the cheapest places to pick up a car, in part because they also have more associated risks. Most of the time you can't test drive the car, so you may be buying someone else's problems. If you don't know what you're looking at - or listening out for - you could be buying a lemon 🍋.
Online - CARS24
CARS24 is Australia's first 100% online used car buying experience. They try to straddle the sweet spot, offering prices that are cheaper than dealers but providing consumer backup in the form of a warranty. There's no haggling over prices: they put a fair price up from the start. They even allow you to swap the car within seven days if you decide it's not for you. They have no swanky dealerships and don't offer you a 'free' latte – and they choose their cars carefully. Additionally, CARS24 has experts who know what they're looking for, so you get the best-used cars out there.
2. Deciding on the right car
Buying a car can be daunting. Choosing a brand alone can be tricky enough, then there are hundreds of individual models that can add to the confusion.
The first step is deciding what you need. It's at this point you want to remove as much emotion as possible from the buying decision. Sure, we'd all love a seven-seat Ferrari, but the car world hasn't gone there yet!
Are you really going to go off-road or is it only a dream? If you need lots of space, maybe a people-mover would be a better choice than an SUV?
Equally important is the test drive. Where possible you want to do a test drive on roads you're familiar with. That way you can do less thinking about where you're going and more focusing on what the car is like to drive. At CARS24 they give you the option of a seven-day test drive; if the car isn't the right fit for you, they'll arrange a full refund and collect it free of charge. #nice
3. Inspecting a car
A good place to start with any used car is the logbook. It keeps a record of what work has been performed on the car. You want to make sure all services have been performed on time according to the service schedule. And take note of any additional work.
If you want to know more, ring the workshop or mechanic who signed the logbooks. Often they're more than happy to provide additional info that could provide valuable insights.
You also want to establish how the car has been used. Obviously, start by asking the owner or whoever is selling it - but don't always expect an honest answer.
It's also worth considering an independent pre-purchase vehicle inspection, especially if you're not mechanically minded or don't know exactly what you're looking for when shopping for a car.
At CARS24, all cars are put through a rigorous 300-point inspection by highly skilled technicians to ensure they're among the best on the market. This way, you've got peace of mind that you're buying a quality car - and it won't cost you a thing!

4. Negotiating the best price

There's definitely an art to shopping for a car. And the first thing to remember is that you probably have nothing like the experience of the person selling you the car. But you're the one in control, so make sure you use that to your advantage.
Dealers and even private sellers can tell if you're desperate for that car. So even if you are, you have to summon that inner willpower to tone things down. #becool
Know what you're looking at.
Do some research to know what the market value of the car is. That's a great starting point. If the one you're looking at has travelled more kilometres than average then it'll be worth less.
If it's due for a service soon or new tyres then that should all be brought into the negotiations. Similarly, if there's a ding or scrape then it's all fodder for potentially shaving a bit more off the price.
CARS24 uses the Kelley Blue Book, which has over 90 years of experience in vehicle valuations in the US and is a trusted authority in Australia. At least 95% of the cars they sell are in the fair market range compared with what you'll find at a dealer.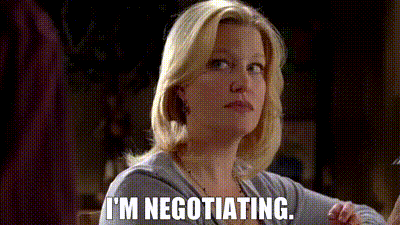 5. Financing your new car

It's worth thinking about how you'll be paying for your new car before you go trudging around dealerships.
Dealer finance rates are a lot more competitive than they once were, but equally, you can get sharp rates through traditional lenders or by borrowing against your house.
Either way, do the legwork before you fall in four-wheeled love and get presented with a contract.
The headline interest rate is obviously important but so are the additional fees and charges and how much you'll have to pay at the end of a lease (the balloon payment).
Use online calculators to make sure you're getting a good deal, compare various options and calculate your repayments.
With CARS24, you have multiple payment methods available, and the option of seamless finance approvals within 4 minutes, with their finance provider, Driva.
Good luck on your car buying journey and check out CARS24 great deals they have on offer if you're looking for a pair of new wheels!